Anime Discovery
This blog is mainly as I considered myself to be a rookie of anime is discovering titles that I either heard before but never watch and especially the unknown anime, the ones that I and maybe you never heard of.
Home

Home This is where you can find all the blog posts throughout the site.

Categories

Categories Displays a list of categories from this blog.

Tags

Tags Displays a list of tags that has been used in the blog.

Bloggers

Bloggers Search for your favorite blogger from this site.

Archives

Archives Contains a list of blog posts that were created previously.
Anime Discovery: TEKKONKINKREET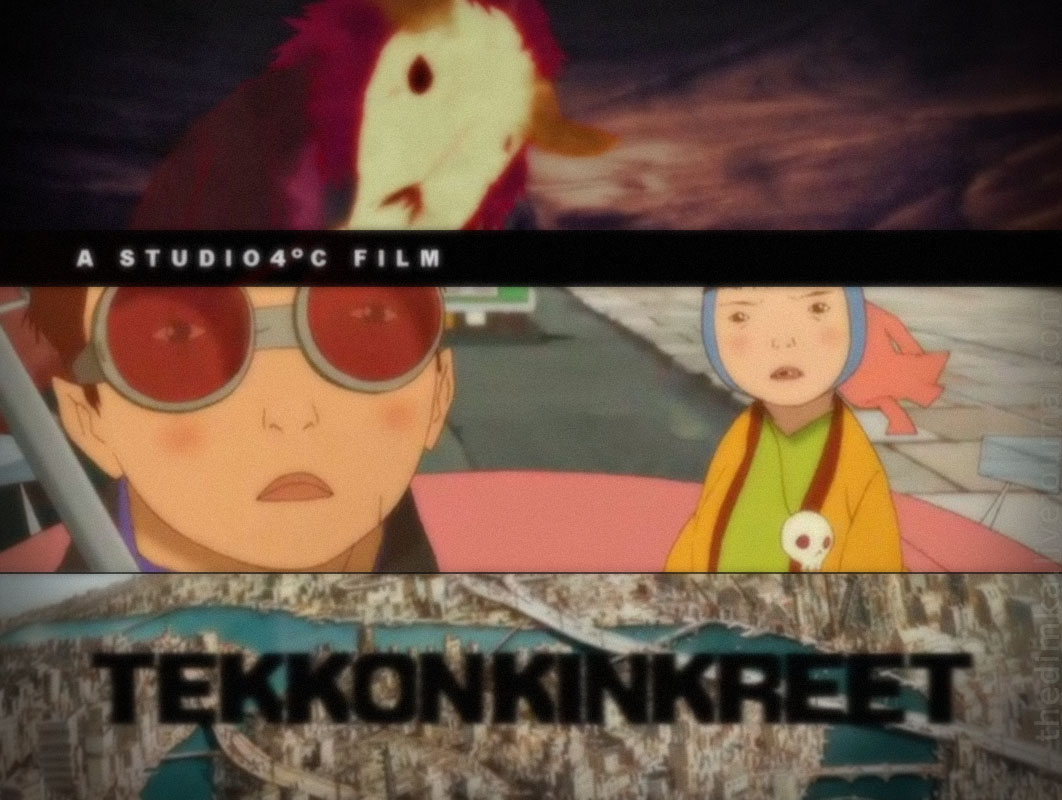 Once again, I have entered the domain of Studio 4°C with this psychological tale of two orphan boys in the city of Treasure Town, based upon a three-volume seinen manga series by Taiyō Matsumoto and was adapted into a feature length movie directed by Michael Arias, who previously was a producer on The Animatrix, making it his directorial debut.
The main characters, Black and White, have shared alliterations toward the concept of yin and yang. Black is a streetwise punk who embodies all that is wrong with the city and White is an innocent and dopey kid, who is out of touch with the world around him. Together they are known as the Cats and their quest is how they deal with the local yakuza from taking over the city and turning it into an amusement park.
When they are together, they are an unstoppable force to be reckoned with as they take down many assailants, such as petty thugs and religious fanatics but when they soon separate, they are hopeless without each other and it really shows that point during the middle of the movie.
The animation design and art is up to par with the other works of Studio 4°C. It's very unique and endearing but at some times, it can be disturbing at a few times but not overall. The innovation works At first, the character of White started to annoy me with his constant spacey state but soon, he'll annoy you less as the story goes on and Black, as cool as he may be, is one disturbed and f***ed-up kid but it is true that Black and White do really have shared chemistry throughout the film. It feels like they can't live without each other and once again, the concept of yin and yang applies to this movie. As for the music, the electronica score courtesy of British group Plaid was remarkably decent but I didn't really pay that much attention to the score and I usually do. Although during those parkour-like sequences, the music did embrace that a bit further than before.
FINAL VERDICT: Well, the positives of this movie do outweigh its negative aspects but it is a perfect film? Not really but it's still a very good movie to watch from its unique art style to the contrast of the main characters and yes, I would recommended this to anybody who likes this kind of anime.
TekkonKinkreet gets the rating of....
8/10 : Solid B.
And until then, I'm MAK2.0 aka HybridMedia, bringing all the elements in one format.
TEKKONKINKREET – courtesy of Sony Pictures Worldwide Acquistions Group and the TEKKONKINKREET Production Committee(Aniplex, Asmik Ace Entertainment, Shogakukan, Beyond C., Dentsu, Tokyo MX & Studio 4°C
Trackback URL for this blog entry.
Just a guy born in Italy, raised in Alabama (yes, that Alabama) and has an fascinating taste in any media format of today from music to movies to animation (whether Western and especially anime) to even the internet.