Cartoon Corner
Cartoon Reviews, Let's Plays Etc.
Home

Home This is where you can find all the blog posts throughout the site.

Categories

Categories Displays a list of categories from this blog.

Tags

Tags Displays a list of tags that has been used in the blog.

Bloggers

Bloggers Search for your favorite blogger from this site.

Archives

Archives Contains a list of blog posts that were created previously.
Whyboy Spotlights QUICKY... The Dark Knight Rises
*WARNING THIS SPOTLIGHT WILL CONTAIN SPOILERS. IF IT DIDN'T IT BE A PRETTY DULL ARTICLE*
Finally back to this again. Sorry for the LONG hiatus, I just lost my creative edge when it came to these articles after The Great Dictator Spotlight. My next spotlight will be back to its usual length and analysis but until then time for a small look at The Dark Knight Rises. I just got around to watching it about a week ago and in all honesty doing a full review of this now is rather pointless. EVERYTHING that needed to be said about Rises has already been said and I mostly am just restating what everyone has already said. I'm gonna give my own personal gripes and compliments to the movie and if they match up with other reviewers then whatever. 
Eight years after Harvey Dent's death in The Dark Knight, Gotham is all sun shine and flowers that is until Bane, emerges from the shadows and overwhelms the city's finest, and the Batman after being exiled must now resurface to save Gotham but now he's a little worse for ware seeing as how he's basically become crippled and fully demoralized in those 8 years. It isn't until Selina Kyle, the Cat Burglar, steals his fingerprints that Bruce decides to put on his cowl once again to rise and take on Bane. Will Batman be able to stop his reign of terror over Gotham? 
My main thoughts on are simple. Despite a few plot holes, the very predictable twist at the end, and the main villain being kind of meh I enjoyed watching The Dark Knight Rises very much. The story was fairly well structured for the most part. It kept a more stable pace throughout its runtime then The Dark Knight which was an adrenaline overload by the 3rd Act and just wouldn't stop. However despite being structured better Rises fails to create any sort of WOW! that would capture audiences like it did in the Dark Knight. Maybe this is more due to the writers had already played their best cards in the first two movies. 
There really aren't too many scenes that will truly stick with the audience once they leave the theatre. The movie is fun but it will soon slip from your memory into your personal recycle bin. No pencil in the brain, no cross dressing joker, no scarecrow scares, nothing in this movie holds the punch needed to stick itself with the rest of those scenes. For me the only scenes that stuck were the stupid ones. For example I enjoyed the scene where Bruce is escaping the pit prison that Bane threw him in while every prisoner chants to cheer him on. After watching this scene in fact, me and my friends spent the entire weekend joking about what their chant sounded like to us. Our unanimous vote lead to the constant chanting of "FISH! FISH! POSSUM! POSSUM!"
One more spoilerific goofy moment was around the middle where Cat Burglar tricks Batman into a trap and Bane beats the ever loving crap out of him. Unknowingly to me the two actually had a conversation throughout the fight but all I heard was them going RAR! at each other. Might have needed a little help in the audio department. Regardless it was quite a laugh after I was told and the goofiness of this scene and the "Fish! Fish!" chant made the movie definitely worth watching.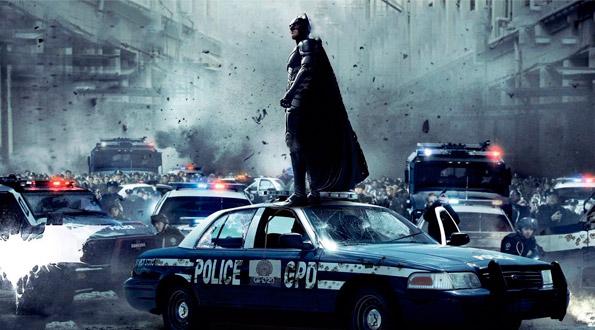 Moving onto the characters and they are all good. Christain Bale still plays the hilarious sounding Batman and the suave-ish Bruce Wayne. Gary Oldman plays his always solid performance as Commissioner Gordon. The newly casted Joseph Gordon-Levitt does a very entertaining performance as the hot tempered cop Blake. Get it? Blake = Tim Drake = Robin = "Clever." And the most notably and kind of disappointingly Anne Hathaway plays the seductive cat burglar Selina Kyle whose not named Cat Women or has her signature Whip because... It's not realistic? Plain and simple he did alright but I was expecting a more Arkham Asylum Cat Women rather then just the Cat Burglar shown in this film.
Simply put no one does a bad job in Rises. My only character related issue is with the villain, Bane. While I didn't expect him to be on Joker levels of criminally insane and intelligent, Bane feels very like a very meh middle of the road sort of villain, and his motivations and character arc makes it seem like he's a british Saturday Morning cartoon villain who was pulled out from the TV. Also, by the end of his arc he's just POOFED from the movie, no big climatic battle with the MAIN VILLAIN just bang and AWAY we go to fight the REAL main villain. That was pretty underwhelming.
Basically what I'm saying is that I liked Rises but it's nowhere near as strong as the previous two films. By the time Rises came begins and The Dark Knight had already munched up all the really innovative, and intense set pieces and characters. Oh well we still got a good action flick out of it and a MAYBE spin off Nightwing movie coming our way so at least we can look forward to that. I guess all I can say to close this off is that I'M WHYBOY!
NEXT TIME: Renny The Fox
Written by Taylor 'Batboy' Wyatt
Illustration by Jordan Tucker
If you have any requests for a future spotlight comment below or contact me at This e-mail address is being protected from spambots. You need JavaScript enabled to view it
Trackback URL for this blog entry.
A Cartoon Loving Lunatic who loves cartoons and video games and takes it personally when he sees or plays a bad video game/cartoon. So, Ireview them despite losing some sanity.